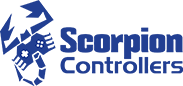 (305)521-8693
Terms & Conditions
Shipping - All controllers are made to order and typically take 2-3 days (3 - 6 days during holiday season) to be assembled before they are shipped. We ship all orders via USPS or FEDEX, international orders ship via USPS. Please note, during the holiday season assembly time may increase.

Rush Shipping - If you already select optional rush processing service we guarantee that your controller ships within 24 hs to 48 hs (Monday-Thursday).
Warranty – All Scorpion products come with a 60 day standard warranty, we also offer an extended 1 year warranty. Our warranty is applicable for modified parts and labor – warranty does not cover tampered products or any personal damage to the controller or any controller parts.

Return Policy – We offer a 7 DAYS RETURN POLICY if you are not fully satisfied with our product. Returns will be granted at the sole discretion Of Scorpion Controllers. Controllers exhibiting any use, abuse, scratches, damage or wear WILL NOT be accepted for return. Warranty sticker on the controller has not been tampered. All returns are subject to a 20% RESTOCKING FEE on all refundable merchandise. (SHIPPING FEE AND TRANSACTION FEE ARE NON- REFUNDABLE). Customers are responsible for return shipping.
NO REFUND IN CUSTOM CONTROLLERS
Patches and Updates – Rapid Fire is not patchable due to the way it functions. Certain add-on mods such as fast reload or jitter which work off glitches in game may be patched. In the unlikely event that this would happen we offer services at a minimal cost to update your controller once we have defeated the code.

Sales Tax – In accordance with State Law, all orders shipped to USA addresses will be charged sales tax.

Legal Notice - Scorpion Controllers offers products for sale to be used at the discretion of the customer. The customer assumes full and sole responsibility for use of any products purchased from Scorpion Controllers.
Copyright By Scorpion Controllers, Modded Controllers © 2013