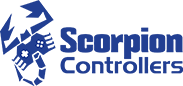 (305)521-8693
Showing 1 to 9 of 9 (1 Pages)
Scorpion Controllers develop custom ps4 controller. One of the most searched and bought gaming accessory, these devices have the capability to extend the lifespan of the character and thereby improve the thrill of the game.
The most popular addition or alternative capability to the ps4 modded controllers is the rapid-fire mod. The modded controllers that are integrated with this capability can actually depress a button without physically stressing themselves. All that is needed is to press the relevant button and the controller completes the job.
The benefits of the modded controller are as follows:
-Faster movements
-Skilful aiming
-Rapid firing mode
-Longer Lifespan
All these help in extending the overall life span of the character and thereby improve the thrill and excitement that comes attached with it.
The gaming consoles were created to extend excitement especially among those who seek the thrills.
Buttons is repeatedly pressed during shooting activities and adventure games. There are games that require faster movements and come with quick time event sequences, where the player has to fight and win amongst brutal enemies. The Xbox one modded controllers come with such facilities that improve one's gaming experience by quickening reactions. The controllers are moulded to yield in the hands of the player and thereby fire without sacrificing any accuracy.
Copyright By Scorpion Controllers, Modded Controllers © 2013